As environmental awareness becomes increasingly a top priority, janitorial services like 24 7 Building Maintenance are taking steps to be environmentally friendly when it comes to janitorial cleaning for residential, commercial, and educational industries in the Greater Los Angeles area.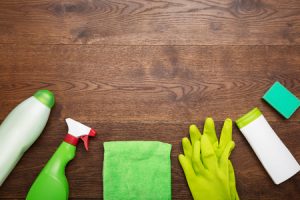 A majority of brand name cleaners have plenty of toxic chemicals that are released in the air when cleaning.  This is never good for the environment, even though they may be getting the job done.  We provide eco-friendly cleaning to decrease our waste and carbon footprint, so that we all can create a healthier environment.
The Benefits of Eco-Friendly Cleaning
Using soaps and cleaning materials that can eliminate the toxic chemicals releasing into the air is what we have been doing for many years.  The cleaners we use kill the germs and clean up the filth while not polluting the environment. Also, our biodegradable materials and reduced packing materials decrease waste.
Here are some benefits:
Better air quality (indoor and outdoor)
Non-toxic materials
Less expensive
Many people don't realize that the overuse of toxic cleaners in their home or commercial space can cause bad air quality over time.  Sometimes people develop health problems from synthetic fragrances, which say "toxic if ingested" on the labels.  Releasing these chemicals in the air can cause health problems in the future like cancers, neurological disorders, immune system, allergies, and more.  Be aware of this when cleaning, and maybe consider going the environmentally friendly route.
At 24 7 Building Maintenance, we provide janitorial, facility, and residential services for maintenance in the Los Angeles area.  We provide specialty cleaning and restorations for all our customers and their needs.  If you're in need of some professional restoration or cleaning services, contact 24 7 Building Maintenance at 818-886-6510 to learn more about how we can turn your space into the clean professional look you want, while eliminating toxic chemicals and waste.