Classrooms have always been a breeding ground for germs, especially now with the everyone dealing with the global pandemic. As students return to the classrooms with CDC guidelines and safety protocols for fighting the virus, we have to take a look at how we can keep these places cleaner than ever. The bodies that encompass the classroom for six hours a day are sneezing, coughing and blowing their noses on surfaces they might not know germs are reaching to.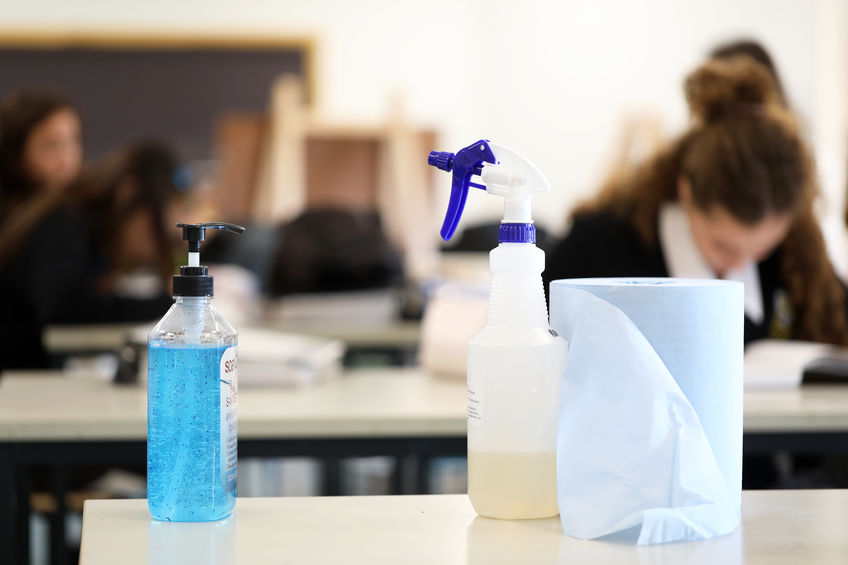 But more than dealing with the common illnesses, classroom germs and dirt can have a very negative affect on those who have allergies and asthma. This can also have a negative impact when we're trying to keep everyone healthy and safe from the COVID-19 Pandemic.
Dust is found everywhere, and it can be quite difficult to keep up with unless you're diligent about wiping and de-cluttering surfaces. In between professional cleanings, there are steps you can take to combat germs, dirt, grime and anything else that can or is affecting the health of students and teachers.
Clear countertops of extra papers, bins and other materials not used every day. By doing so, you can see dirt build up and take care of it before it circulates in the air.
Wipe surfaces where bodies touch at least once a week. This is different now with a pandemic on our hands. We have to wipe surfaces more frequently after uses. Chairs, desk tops, door knobs, cupboard handles and faucet handles attract germs easily. Use a disinfectant wipe to wash away built-up dirt and grime.
As long as the weather permits, open the windows so you and your class can enjoy and breathe in fresh, clean air.
Find out if you have students with severe allergies and asthma and speak with the school's nurse about ways to eliminate or limit the amount of allergens in the classroom.
Get students to help by making sure they wash their hands frequently throughout the day and to keep their work areas clean.
At the end of the day, have the students find at least one piece of garbage in the classroom to throw into the trash.
With a little bit of daily cleaning, your classroom will be able to withstand against germs and dust before it is due again for a professional cleaning. For cleaning services and information, be sure to contact us today.