Many companies tend to hire people to do their own cleaning to help save money and give other people jobs in the building. Hiring an outsourced company to conduct all the cleaning might be more beneficial than you think. It may be worth it to hire a professional to take care of all the cleaning issues, so you don't have to worry about any mishaps in your own company.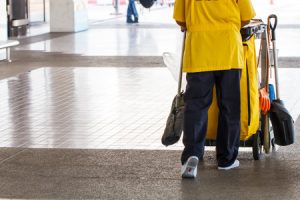 Here are some benefits:
Operating Costs and Liability
Expertise
Resources and Support
Expense
– 24 7 Building Maintenance handles all employee administrative issues concerning operating costs and liability issues. Your company can manage their focal business operations, rather than worrying about cleaning and building maintenance issues.
– Our expertise is through the roof compared to other services.  We attack all the areas including green cleaning, around-the-clock maintenance issues, and employee training and quality control. We use the best and new methods to conduct our business to make your business cleaning issues a stress reliever.
– In house cleaning can make mistakes and miss opportunities to improve the experience for your customers and employees.  We provide more than just the routine cleaning.  Our full-service maintenance company provides services like carpet cleaning, trash removal, handyman services, parking lot cleaning, and more!
– We provide the guidelines to the cost and make sure they are clear for your company to make a decision. You will not have to worry about calculating costs for your own employees.
24 7 Building Maintenance
At 24 7 Building Maintenance, we provide janitorial, facility, and residential services for maintenance in the Los Angeles area.  We provide specialty cleaning and restorations for all our customers and their needs.  If you're looking to hire an outsourced company to handle all the cleaning and building maintenance issues, so that you don't have to, contact 24 7 Building Maintenance at 818-886-6510!