Hardwood floors are beautiful if you have them in your home. They are long-lasting if you take care of them the right way. This is something you must do because of the initial cost of installing real hardwood floors in your home.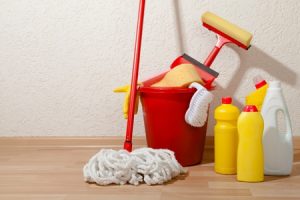 Sweeping
Hardwoods tend to collect quite a bit of dust and debris, so it's important that you pay attention and make sure to sweep up on a regular basis. If the debris get's bad after a week, it might be a good idea to use a wood floor vacuum each week. You want to make sure you're not scratching the hardwood surface though.
Using a Mop
Hardwood floors also need to be cleaned with a mop. The mop should be damp, not soaked with water, so ring it out as much as you can. You never want to leave any puddles on the hardwood floor because this will end up damaging the floor. Don't use any harsh chemicals because this might affect the hardwood surface.
When Should I Clean?
Hardwood floors can be tough because they're time consuming, but they are also worth it. Sweeping up the floor must be done daily if you don't want dust to gather on the floor. Every week, you should be vacuuming or cleaning up more heavily. Mopping doesn't have to be a constant chore as long as you're not too dirty. You can also use a wood cleaner once a month, but this will have to be researched on what type of cleaner to use on your hardwood.
24 7 Building Maintenance
At 24 7 Building Maintenance, we provide janitorial, facility, and residential services for maintenance in the Los Angeles area.  We provide specialty cleaning and restorations for all our customers and their needs.  If you're in need of floor cleaning services professionally done, contact 24 7 Building Maintenance at 818-886-6510 to learn more about how we can turn your space into the clean professional look you want, while eliminating toxic chemicals and waste.