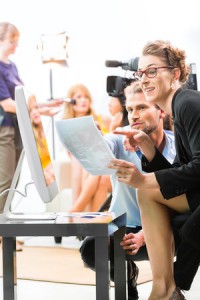 You are looking to increase your business's branding and visibility and have decided to hire a professional film crew to make a commercial. How do you get your building or space ready for filming? Will a quick sweep and mop do the trick? The simple answer is no. If you are hiring pros to film your commercial instead of making a home movie, you should be hiring the pros to clean your business.
Cleaning professionals know how to make your business look spotless, and organized. They are trained to use the appropriate cleaning solutions, materials and machines to do the best job possible. They are experienced workers who can get into every corner, every nook and cranny to give you a cleaning that you couldn't possibly do yourself. Remember, the camera sees everything, and if there is one piece of dust on the floor, it will find it.
If you have counters in your business, professional cleaners will leave them sparkling. If your walls have dirt, grime, or other imperfections, the pros will know just what to do to get them looking pristine – as if they had just been newly painted. Floors will be impeccable, regardless of what they are made of – wood, laminate, tile, or carpet. Your pros will get down on their hands and knees to get it done just right, all the while saving you from having to do it yourself – and not as well.
If you hire the pros to assist you with marketing and making a commercial, why wouldn't you hire the pros to get your business ready for filming? It just makes good sense. It is cost-efficient, and your business's commercial will have a much better chance of doing exactly what you want it to do – add to your branding and increase your visibility.