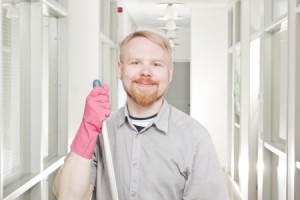 Public buildings, such as schools, clinics, restaurants, and hospitals, are havens for all types of germs. Most of us will do everything we can, to get out of having to use a public restroom, because we fear all of the germs and bacteria that live in such places. Cleaning may seem like a simple, everyday task, but thorough and effective cleaning, should be left up to a professional.
Janitors are often taken for granted, but the truth is, they have an extremely important job. Professional janitorial services know exactly what cleaning solutions to use, and where to use them, so that they are most effective. Customers notice when a business' floors, furniture, and bathrooms are not being cleaned properly. It can be a huge turn-off for customers, and may deter them from coming back. Particularly, families with children, find it a huge risk to be in a public venue that is unclean.
There are many ways that businesses can cut costs, however, skimping on the cleaning budget, is not a good idea. It is in a business' best interest to hire a professional janitorial service to thoroughly clean, disinfect, and maintain a sparkling clean and sterile environment for their customers.
Here are 5 great reasons to hire a professional janitor for your business:
1. Professional janitors have the experience needed to clean, and thoroughly disinfect a public space. Cleaning public areas requires a different type of knowledge and skill set, than what is required to clean a single-family unit.
2. Your customers will definitely notice that you have hired a professional cleaning service. Professional janitors know how to leave floors, furniture, and bathrooms neat and polished after cleaning.
3. Your place of business will be cleaned on a regular schedule, and the cleaning will be consistent, creating as much of a germ-free environment, as possible.
4. A clean place of business, inspires workers to keep it that way. It makes for a more pleasant and healthy work environment for your employees.
5. It impossible for owners, managers, and employees to keep a place of business clean. Managers and hourly employees should not be made responsible for thoroughly cleaning the work space. But once it is professionally cleaned, employees and customers, will more easily maintain that clean environment.