Your windows are usually the first thing people notice when walking up to your building. Clean windows make the entire place look much better, and if they are not clean, then the first impression is already off to a rocky start. Don't wait to clean those windows. If they are in need of some deep cleaning, get them done!
24 7 Building Maintenance offers all types of window washing services!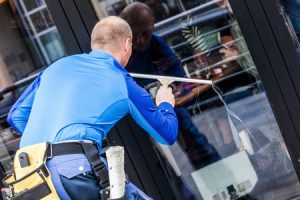 The Benefits of Cleaning Windows
Better Appearance – You want your clients to feel confident in your business, and when they see the crystal-clear windows shining before they walk in, they know they are walking into a professional business.
Extending the Life – Getting the windows cleaned regularly will help sustain a longer life for your windows. This cuts costs in the future because you won't have to replace the windows if they are in good condition.
Professionally Done – Hiring a professional cleaning service like 24 7 Building Maintenance will save you the time, so that you can focus on what's most important with your business. There always comes a risk when doing it yourself because you may not have the expertise and experience cleaning windows professionally.
Health Benefits – Clean windows not only enhance the appearance, but they also have plenty of health benefits. Clean windows reduce allergies because there is no dirt build-up and dust, hair, skin dander, pollen and other allergens are not gathering on the windowsills.
Other Benefits – Cleaning windows helps to prevent mold, eliminate spiders.
24 7 Building Maintenance
At 24 7 Building Maintenance, we provide janitorial, facility, and residential services for maintenance in the Los Angeles area.  We provide specialty cleaning and restorations for all our customers and their needs.  If you're in need of window cleaning services professionally done, contact 24 7 Building Maintenance at 818-886-6510 to learn more about how we can turn your space into the clean professional look you want, while eliminating toxic chemicals and waste.